The Geneva Center for Business and Human Rights (GCBHR) was founded in 2019 as the first business and human rights center at a business school in Europe. Under the direction of Prof. Dorothee Baumann-Pauly, the GCBHR educates future business leaders and supports companies in developing business models that align profits and human rights principles.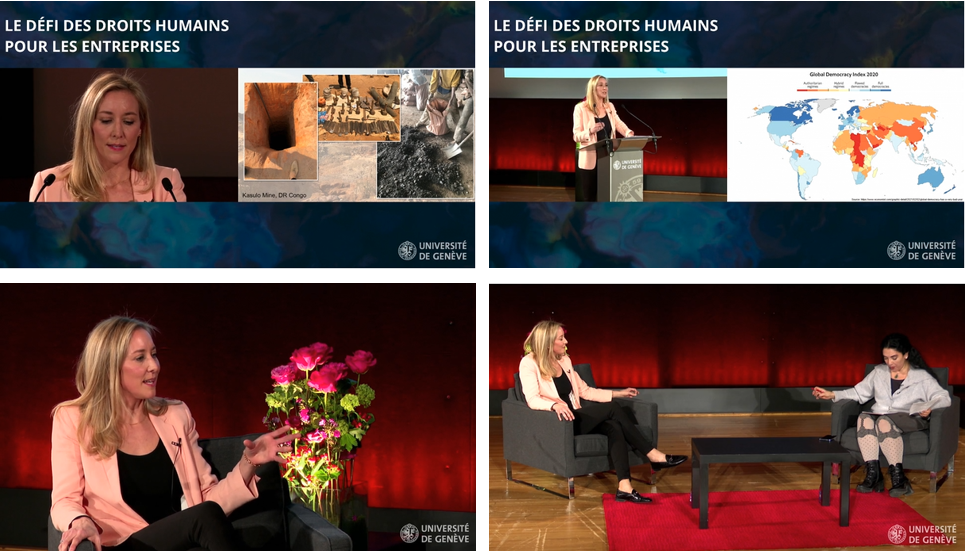 Prof. Dorothée Baumann-Pauly launched the University of Geneva's spring semester with a lecture on the challenge of human rights in business. She presented her work as a business ethics scholar, and argued that the current crisis offers a unique opportunity to innovate and develop sustainable business models. She added that companies that embrace this challenge are set up for long-term business success, and become a force for sustainable development that creates value for business and society. The lecture was followed by a series of questions and answers that focused on the importance of realizing that human rights issues are not only the responsibility of governments but that they must also be tackled by businesses and investors.
Latest BHR Insights
This hub compiles recent academic and non-academic reports and papers relevant to the artisanal mining of cobalt and the battery supply chain. The search function helps filter by name, date, publishing organization and keywords. If you think we missed a publication that should be included in this hub, please let us know and we'll add it immediately!
We hope that this regularly updated list of publications (with links and short descriptions) will serve those conducting research on extractives, batteries, and cobalt.

In this article in Entreprise romande by Lauren Hostettler, Dorothée Baumann-Pauly argues that environmental as well as health and safety standards in artisanal cobalt mining in the DRC should be monitored by an independent body.

Through concrete examples, this webinar presents the GCBHR's distinct research process and methodology to discuss with participants how to make further improvements. The final part of the webinar is devoted to highlighting the potential unintended consequences of conducting research with the declared objective of affecting change in company conduct.
Featured Insights
Representatives from a number of business school, both professors and administrators, have worked jointly to assemble this tool kit. It includes information and resources explaining the increasing relevance of human…

The GCBHR is excited to annouce the launch of the world's first Business and Human Rights Clinic at a business school.

Our new report written in collaboration with Finance & Human Rights (FaHR) was launched at the Sustainable Finance Forum on October 29th. This baseline study assesses how European Financial Institutions…